Links to Human Factors Resources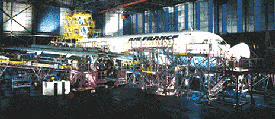 All links are reported as received – HFG resources do not allow us to verify or update them regularly. We invite you to help us keep this page current by letting us know about any changes or errors you find.
Sites which may be of particular interest to HFG members are shown with 1 to 4 relevance stars. To report broken links or updates please use the feedback page to tell us about it.
General Interest HF Sites
National Aviation Authority sites, ICAO and professional/trade organizations
Accident and incident data
Research organizations and Universities
Military human factors sites
CRM and flight operations-related sites
Flight deck design/automation
Maintenance and inspection
Air Traffic Control human factors
Cabin and passenger safety
Other sites which may be of interest
General Interest HF Sites
National Aviation Authority sites, ICAO and professional/trade orgaisations
Accident and incident data
Research organisations and Universities
Military human factors sites
Flight deck design/automation
Maintenance and inspection
Air Traffic Control human factors
Cabin and passenger safety
Other sites which may be of interest