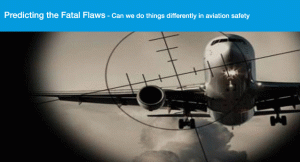 Speaker

Biographical Notes and References

Kathy H. Abbott

Chief Scientific and Technical Advisor for Flight Deck Human Factors Dr. Kathy Abbott has over 30 years of experience specializing in aviation human factors. Dr. Abbott came to the FAA from the National Aeronautics and Space Administration (NASA). At NASA she led analytical, simulation, and flight studies with the specific objective of improving aviation safety and operational efficiency. She also co-chaired the FAA Human Factors Study Team that was chartered to address safety issues associated with crew interfaces with modern "glass" flight decks.

Member, professional organizations and societies:

Institute of Electrical and Electronic Engineers (IEEE)
Associate Fellow, American Institute of Aeronautics and Astronautics (AIAA)
Fellow, Royal Aeronautical Society
Liveryman, Guild of Air Pilots and Air Navigators

Industry and government awards:

R&D 100 Award from R&D Magazine
NASA Outstanding Leadership Medal
NASA Exceptional Service Medal
Aerospace Laurel from Aviation Week and Space Technology
Engineer of the Year, AIAA – Hampton Roads Chapter
Christopher Newport University Distinguished Alumnus Award
Guild of Air Pilots and Air Navigators Cumberbach Trophy for Outstanding Contributions to Aviation Safety

Academic achievements:

PhD in Computer Science, Rutgers University
MS in Computer Science, George Washington University
BS in Mathematics and Information Science, Christopher Newport College

Guy Boy

Dr. Guy André Boy, University Professor and Dean of the School of Human-Centered Design, Innovation and Arts at Florida Institute of Technology, and Chief Scientist for Human-Centered Design at NASA Kennedy Space Center.

Jon Berman

Jon has over 35 years' experience across the high-hazard industries. His career started with British Aerospace followed by a number of years at the RAF Institute of Aviation Medicine, before he moved to the UK nuclear industry in 1986. He has worked in consultancy across the high-hazard industries for over 25 years, and is a Director of Greenstreet Berman Ltd – focusing on managing the human element of risk. His current interests are in human performance within complex socio-technical systems, Organisational Drift, and Resilience.

He is a Fellow and Past President of the Chartered Institute of Ergonomics and Human Factors, and was awarded the Institution of Chemical Engineers Hutchison Medal for his work on Organisational Drift. He is also a Chartered Ergonomist & Human Factors Specialist, and a Chartered Psychologist..

Giancarlo Buono

Capt. Giancarlo BUONO is the Director Safety and Flight Operations for Europe at the International Air Transport Association (IATA), based in Brussels, Belgium. In this function he is responsible for the delivery of IATA Safety and Flight Operations Strategy in Europe and for the liaison with European Regulators, the EC and EASA on issues relating to air transport Safety and Flight Operations.His professional expertise consists of extensive flight operations and quality-safety management experiences.

With 24 years of experience in the Air Forces and Airline industry he is currently qualified as a Captain on the Airbus A-320 family. He holds a Master Science Degree in "Air Transport Management" from London City University and has been involved in a number of international Safety and Quality developments programs.He is qualified as an Accident Investigator and as an IATA and ISO Quality and Safety Auditor. He has received formal training in Human Factors and Crisis Communication

Capt. BUONO is visiting professor in Airline Regulatory Compliance at London City University and in Safety Management at Geneva University. He is a Fellow of the Royal Aeronautical Society.

Nick Clutton

Nick retired from flying in 2014 following a career operating B767, 757 and 737s for British Airways, Astraeus Airlines and Ethiopian Airlines. He has extensive experience in multi-crew training from Crew Resource Management (CRM) / Human Factors (HF) to Electronic Warfare (EW) and tactics development.

He has been working with Bryony Lamb for over 10 years developing a patient-focused culture where health care organisations could apply CRM/HF training to teamwork development and collaborative practice to improve the safety of the patient pathway. This model is applicable to other risk industries. His recent flying took him to Asia, Europe and Africa. This experience reinforced Nick's view that the model of the "Culture House" would be of value to the aviation industry.

Published work includes:
– "Effective Leadership for Cultural Change" in Creating an Interprofessional Workforce: An Education and Training Framework for Health and Social Care in England, 16-20, Department of Health & CAIPE. Lamb, B. & Clutton, N. 2007
– "Using Crew Resource Management within Interprofessional Teamwork Development for improving the safety and quality of the patient pathway in health and social care", in Journal of Practice Teaching and Learning – Bryony Lamb & Nick Clutton, 2010

– Culture and Safety Management – a discussion paper for the Honourable Company of Air Pilots.

Stanislaw Drozdowski

Stanislaw Drozdowski is a Senior ATM Expert at EUROCONTROL HQ in Brussels, Belgium, working in the area of airborne safety nets (ACAS/TCAS) and ground-based collision prevention systems (STCA, MSAW). He focuses on the current operational issues as well on the enhancements to the existing systems. Stan is the editor of the EUROCONTROL ACAS II Bulletins and author of several articles covering ACAS operations and training.Stan is a co-chairman of the EUROCONTROL Safety Nets Improvements Network and engaged in the works of RTCA SC-147 (TCAS) and EUROCAE WG-75 (ACAS).

Before joining EUROCONTROL in 2002 Stan worked as an ATM System Engineer with Northrop Grumman in Baltimore (USA) on the implementation of ATC systems in several countries around the world (1993-2002). He has also worked as an en-route Air Traffic Controller in Poland and New Zealand (1985-1992). Stan earned a Master's Degree in Transport Management from the Warsaw School of Economics (Poland) in 1985

John Franklin

John started his aviation career in the RAF, serving as an Engineering Officer on the Tornado aircraft and within various staff roles in aviation safety, spending the last 6 years working in the field of occurrence reporting and investigation. He joined EASA in 2011 as Safety Analysis Coordinator responsible for collaborative safety analysis initiatives between the NAAs of the EASA Member States. In 2014, he became the Head of the Safety Analysis and Research Section, which provides safety intelligence to support the European Plan for Aviation Safety and leads collaborative safety risk management with NAAs and industry. He has been closely involved in EASA's most recent Annual Safety Review, q.v.

Chris Johnson

Chris Johnson is Professor and Head of Computing at the University of Glasgow, Scotland. Prof. Johnson develops new techniques to support the development of complex safety and security critical systems.

Over the last ten years he has helped to author guidelines for the investigation of incidents and accidents across both the European aviation and railway industries. He has worked with members of the European Space Agency and with NASA on the software engineering of future space missions.

Prof. Johnson heads a research team working at the interface between safety and cyber-security. He has held fellowships from NASA and the US Air Force and is a Scientific Advisor to the SESAR Joint Undertaking on the future of European Air Traffic Management. He also works with the FAA NextGen program on network monitoring for safety and security.

Eric Arne Lofquist

Dr. Eric Arne Lofquist brings 35 years of professional experience in his work with organizations, both in the military as a senior military officer, and in industry as a Director and CEO. He is an accomplished scholar and academic, and has an extensive background as a top leader and operator. Eric started his career as a Navy Fighter Pilot flying F-14 Tomcats from US Navy Aircraft Carriers in the Cold War. Later he was a senior military officer leading a large industrial complex and later as a strategy advisor for the NATO military headquarters in Brussels, Belgium. During his military career, Eric accumulated an impressive collection of education including three Masters degrees in Strategy, International Relations, and an MBA in International Business. After his transition to the civilian world, he led two Norwegian companies as a director and CEO.

Eric left the industry in 2003 to pursue a doctorate in organizational strategy and leadership at the Norwegian School of Economics studying the effects of organizational change on safety in high- risk industries, specifically – Aviation.

Eric has spent the past 7 years teaching strategy and leadership to executive masters students in Human Resource Management (HRM), International Strategy, and Health, Safety and Environment (HSE) at the BI Norwegian Business school, and as an Adjunct Professor teaching International Strategy at the Norwegian School of Economics:
BI Norwegian Business School, Campus Bergen,
Kong Christian Fredriks plass 5,
N-5893 Bergen, Norway

Jean Pariès

Jean PARIES is the President of the DEDALE company, located in Paris (France) and Melbourne (Australia). He is an internationally recognized expert in the field of Human and Organizational Factors of safety. He graduated from ENAC, the French National School of Civil Aviation, as an aeronautical engineer. After a career with the DGAC (the French Civil Aviation Authority), then with the BEA (the French Air Accident Investigation Bureau), he participated in the foundation of Dédale, active in the fields of aviation, nuclear power, rail transportation, energy distribution, patient safety, industry, and road safety. From year 2000 to 2004, Jean was also Associated Research Director with the Centre National de Recherche Scientifique (CNRS) and participated in a multi disciplinary research program focusing on "Failure Related Risk and its Control". Since the early 2000s, he has actively participated in the research movement of resilience, and he has recently been elected the President of the Resilience Engineering Association. He has taught Human Factors, Human Reliability and Organizational Reliability issues for more than 15 years at several schools and universities. He is the author of numerous publications and conferences, and he holds a Commercial Pilot License.

Panagiottis Stathopoulos

Lt. Col. Stathopoulos ('Panos') is a fighter pilot in the Hellenic Air Force, holds the rank of Lieutenant Colonel and he has been flying the agile F-16 for over 15 years. Panos was the leader of a dual F16 formation which scrambled on August 14, 2005 to intercept a Helios Airlines Boeing 737. He was the sole eyewitness of the evolving accident scene and is familiar with all aspects of the disaster.
Between 2007 and 2008 Panos studied Human Factors and Safety Assessment in Aeronautics at Cranfield University, including an MSc thesis research project concerning cabin crew actions during pilot incapacitation in commercial aviation.
Panos has 5 years' experience on military aviation safety programs and is currently Commander of the 341st Fighter Squadron of the Tactical Air Force, based at Nea Anghialos, Greece.
Other Resource Materials
Flight Crew Reliance on Automation – 2004