Registration
N.B. Registration is now closed for this conference. For Proceedings please contact the HFG using the contact page.
Please use one of the following options to register:
1) Send a cheque (payable to the CRM Working Group) to:
Predicting the Fatal Flaws conference
c/o LOFTwork Ltd
29 Balcombe Road
Horley, Surrey, UK RH6 7JR
or:
2) Pay by credit or debit card using the conference booking page (hosted by the CRM Working Group).
or:
3) Pay by BACS or CHAPS: Please include your name in the payment reference. If you would like a confirmation of registration please also send an email to let us know that you have transferred funds and for what days.
a/c name: CRM Working Group
Sort code 20-24-00
a/c number 60120324
IBAN GB08 BARC 2024 0060 1203 24 SWIFTBIC BARCGB22
Fees are £250.00 for two days including tea/coffee breaks, lunch and a reception on Nov. 26 following the first day's programme. Single day attendance fees include the conference reception and cost £150.00.
NOTES:
* VAT is neither included nor charged.
* A 10% discount is available for RAeS, CIEHF and members of other organizing partners (NATS, Eurocontrol) on production of proof of membership.
* Cancellations with full refund are only accepted until November 5th.
* The organizers reserve the right to cancel the conference at any time without liability for consequential damages.
Location, Directions and Information
The conference is hosted by The Base, Virgin Atlantic Airway's Flight Training Centre in Crawley near Gatwick Airport:
Virgin Atlantic Airways Ltd, The Base, Fleming Way, Crawley, RH10 9LX, UK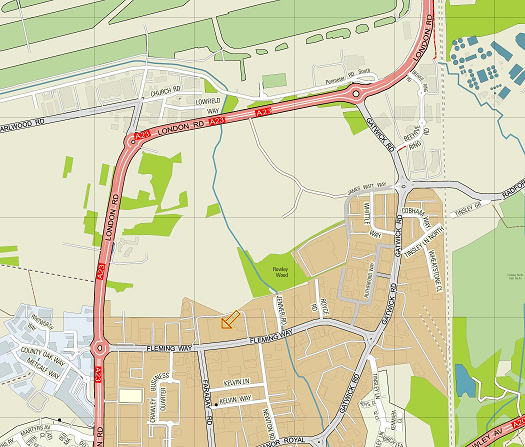 By car: M25 to M23, exit at Gatwick Airport, follow signs for Reigate/A23. Take A23 to A281 roundabout and turn back South on A23, follow to Fleming Way roundabout (opposite County Oak industrial estate), turn left on Fleming Way, destination on left. Parking behind Virgin Atlantic The Base.
By air or train: On arrival at Gatwick Airport, take taxi to The Base. The cost should not exceed £10. A local bus service is also available to Fleming Way.
Hotels
We anticipate that most delegates will probably use a Gatwick hotel with which their company has a booking arrangement. However for those who might like a more traditional inn which is often recommended by delegates, the London Gatwick Copthorne has a 20% advance booking discount.